Annual Oahu Home Sales - 1 Jan 2019
---
Oahu's housing market makes for a historically reliable investment. But will that continue? That's the main question everyone's asking this year.
41 Years of History
Over the past 41 years, both single family home and condo prices have made a steady march in the upward direction. For the full history, check out the following chart. You can click here to see a spreadsheet where you can have get a better look at the data.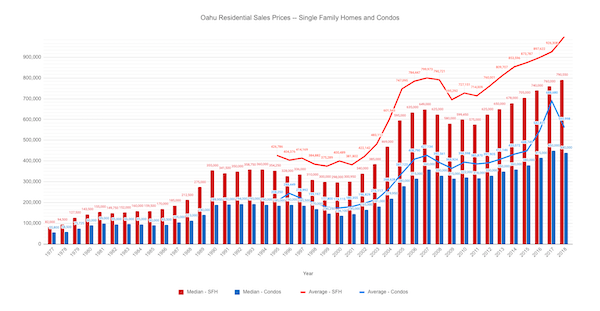 For the seventh year in a row, we saw an increase in median and average single family home prices. For the first time in those seven years, we saw a decrease in median and average condo prices. (More on that in a sec, though.)
This past year was the first time since 2011 that mortgage interest rates have creeped up past 4.5%. Also, there's been a lot of fretting about the economy and our political situation, leading some to speculate that a downturn in the economy is coming. If history is our guide, the real estate market should continue a slow upward movement, however.
Luxury Condo Anomaly
If you look closely at the data, you'll see that condo prices jumped substantially in 2016 and 2017 and then dropped in 2018. The data are deceiving because just a few luxury condo developments in Kakaako drove almost all of the massive market spike, and the sell out of those developments contributed to the price drop.
Consider that in 2017 there were 188 sales of $3+ million condos, 82 sales of $5+ million, 7 sales of $10+ million, and a market high condo sale of $22 million. By contrast, in 2018 there were only 53 sales of $3+ million condos, 22 sales of $5+ million, 4 sales of $10+ million, and a market high condo sale of $23.5 million.
The steep drop in the numbers of ultra luxury condos pulled the average condo sale price down quite a bit.
Steady As She Goes
Ignoring those outliers for the moment, Oahu has delivered average housing price appreciation of roughly 4% to 6% per year, no matter whether you look at the 1-year, 4-year, 20-year, or 41-year timeframes.
Unlike past cycles of rapid growth followed by a flat or corrective market, since 2011 Oahu has shown very consistent, measured home price appreciation. This has made for a stable and predictable market, substantially benefitting both buyers and sellers.